We're settling in for winter here in Manitoba. There's a gorgeous coat of sparkling snow on the ground and I pulled out my skis for the first time today.
I love winter.
I love skating, cross-country skiing, sledding, ice fishing, and winter campfires. There's a different quality to the air in the winter. It's more crisp, more invigorating. And inside the house there are the tastes and smells of soups and stews and cookies. I love cozy fires, cups of tea, and good books. To celebrate all of this wonderfulness I thought I'd take a look at back at a winter that's pretty special to us here at Historical Fiction, the winter of 1884-85.
Winter 1884-85
The weather was record-breakingly cold and snowy that year, according to records from Indiana, so it would have been a difficult and uncomfortable winter even in ordinary circumstances. But this winter was also the first one without bison and that change shifted the balance of political power in Canada.
The sky was a clear, polished blue. The ice crystals on the snow glittered.
This winter is the one Norma wrote about in The Amulet. It's the winter that Jay Clearsky, Wandering Spirit, Catherine and Ian McNab, Corporal Peter Grey, Marie and Old Pascal lived through. And though Pounding Lake is a fictional place, there was nothing fictional about the impact of that winter on the people who lived through it.
The herds of bison which once numbered in the millions were near extinction. Millions of bison had been killed by hide hunters and sportsmen in a period of less than fifty years. The Indigenous peoples relied on the bison, using their meat for nutrition, sinew and bone for tools, and hides for clothing and shelter. Without them they had no food for the winter, forcing them to rely on settler government rations for survival. Many starved that winter. Those who didn't were forced by imminent starvation to take reserves.
Many things contributed to the North West Rebellion and the events that happened at Frog Lake in the spring and summer of 1885. Living through this winter was one of those things.
Below I've collected a series of images from the Glenbow Archives as a virtual tour of Winter 1884-85.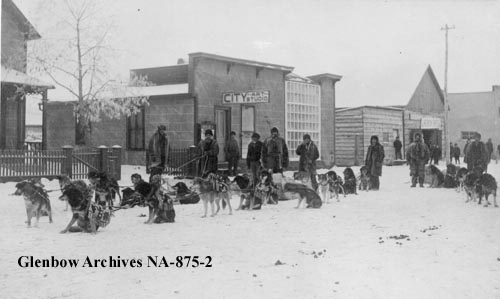 I imagine the main street of Pounding Lake to look something like this, though Prince Albert is significantly larger.
Dog teams at Prince Albert, Saskatchewan. Glenbow Archives NA-875-2 ca. 1890-1893 James, W. J., Prince Albert, Saskatchewan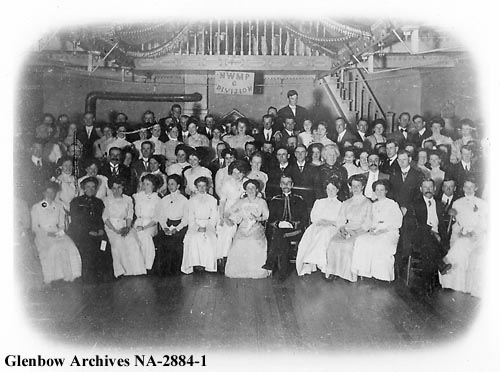 "Ian brought in a small fir tree, and they decorated it with strings of popcorn and glass beads, coloured satin bows, and silver sleigh bells"
-From The Amulet, by Norma Sluman
This Christmas party reminds me of the party Catharine and Ian held at their house though with far more people.
Recreation hall, "C" Division, North-West Mounted Police, Battleford, Saskatchewan. Glenbow Archives NA-2884-1 Christmas, 1880s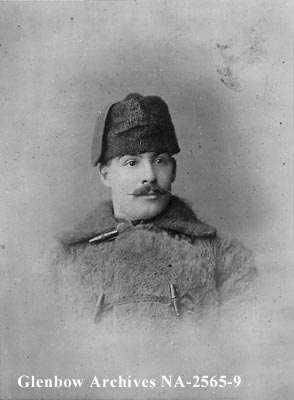 I imagine Corporal Peter Grey to look very much like this unnamed North West Mounted Police Officer.
Unidentified North-West Mounted Policeman in winter garb
Glenbow Archives NA-2562-9
ca. 1890s by Steel and Company, Winnipeg, Manitoba
.
"Everything creaked, groaned and snapped. Ice formed on inside walls around the door and windows, and Catherine melted snow for water as the pump was frozen. The snow was not soft and giving like snow in Rosmere; when she walked on this snow there was a crackling sound like breaking glass."
—From The Amulet, by Norma Sluman
Eastend post North-West Mounted Police, Cypress Hills, Saskatchewan
Glenbow Archives NA-919-5
ca.1880s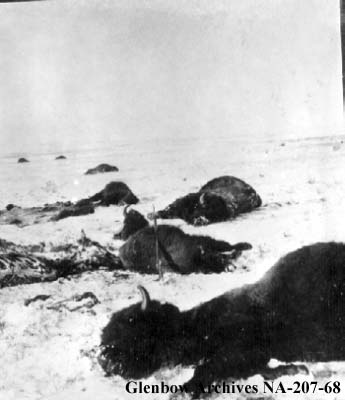 "I am here to tell you that there is no food anywhere in our camp. Some of our people will not live until ration day."
—From The Amulet, by Norma Sluman
Buffalo killed in Smoky Butte region, Northern Montana, USA. Glenbow Archives NA-207-68 January 1882 Huffman, L.A., Miles City, Montana.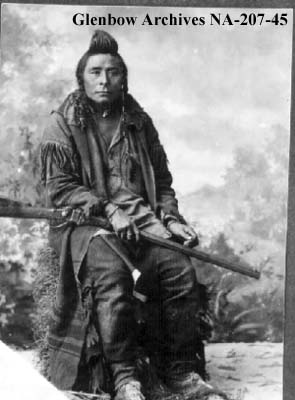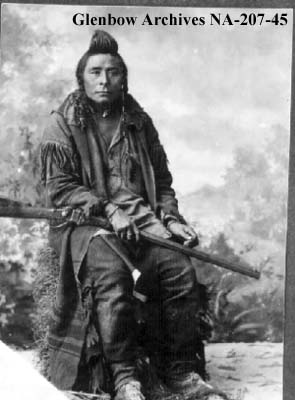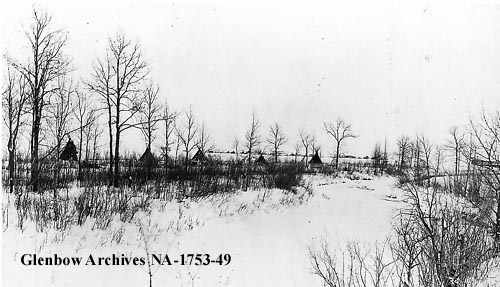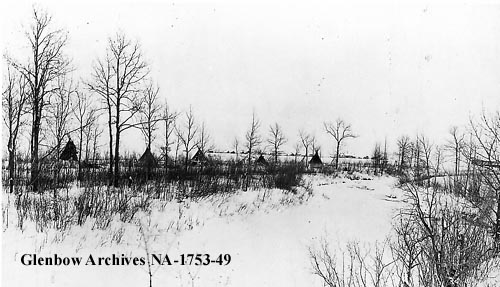 Have you read the Amulet yet?
What did you think of it? Did these pictures add anything to your experience of the story?I'd love to hear your thoughts.
Until next week, Happy Winter!
Laurie
Laurie MacNevin, HF Associate Editor
Laurie is an editor, writer, and researcher. Her deep love of stories led to an Honours degree and a Master's degree in English Language and Literature from the University of Windsor. Originally from Southern Ontario, Laurie has lived in Manitoba for more than ten years, exploring the stories, landscape, plants, and people of some of the most remote parts of the province including three years in Churchill and two years in God's Lake Narrows First Nation. Laurie and her family now live on an acreage outside of Carberry.
Not a member of our FREE Book of the Month Club yet? What are you waiting for?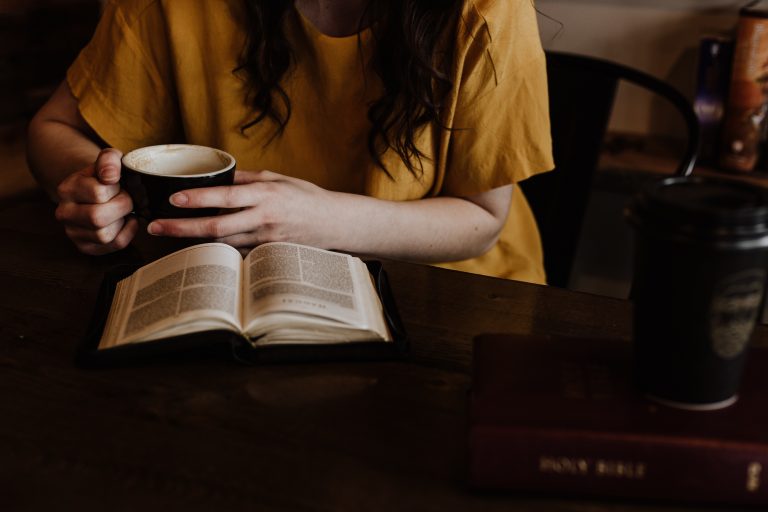 Want a chance to win a free book written by a different Canadian author? Join our Free Book of the Month Club! Every month we review a book by a Canadian author and give it away to one of our email subscribers. Our goal is to share the work of other Canadian authors to help readers find other writers.