This week the Calgary Stampede unveiled their poster for 2021. It's a gorgeous poster and we wanted to share it with you because it highlights and celebrates Indigenous culture in a really beautiful way.
The Poster
The Calgary Stampede Community Spirit Newsletter gives this background story for the poster:
"The powerful work of art was created by 22-year-old Calgarian Lexi Hilderman, winner of the Calgary Stampede Youth Poster Competition. It features a young Fancy Dancer with rainbow ribbons flowing from her regalia, inspired by a photo of a young woman named Katari Right Hand from the Siksika (Blackfoot) First Nation. The image was captured by photographer Ben Dartnell while Right Hand was dancing on stage in front of the Stampede Grandstand."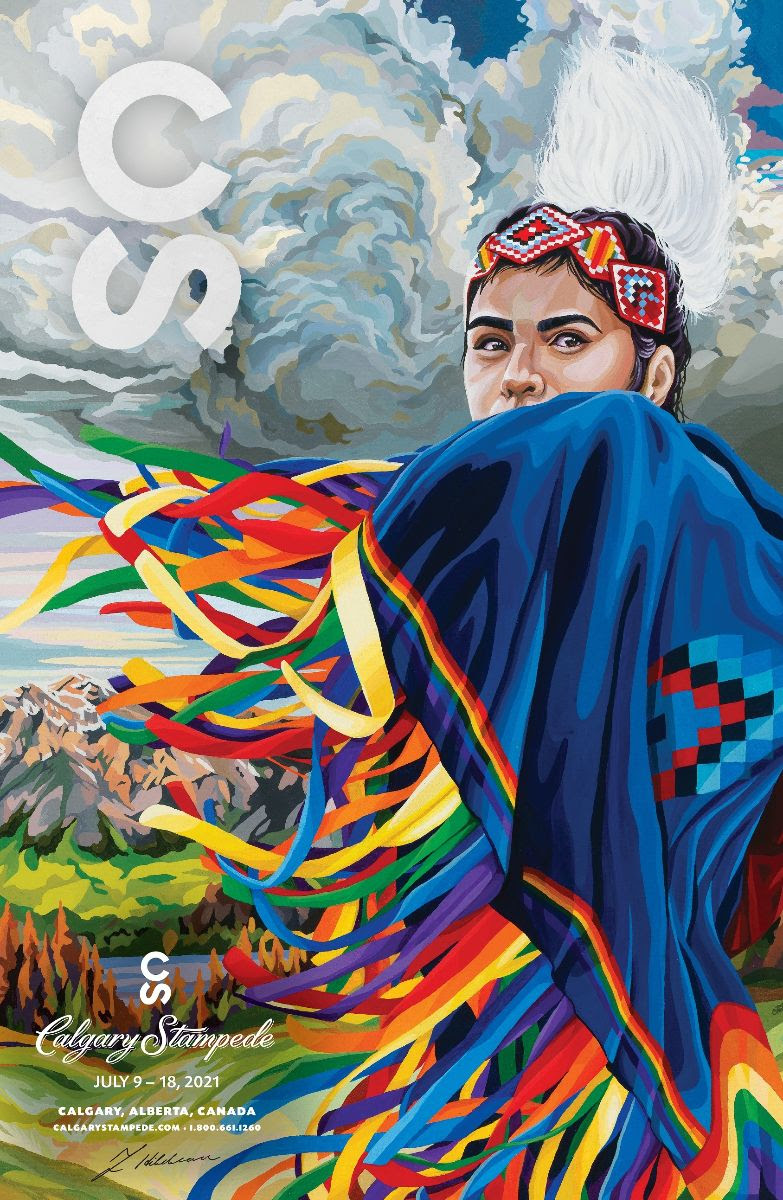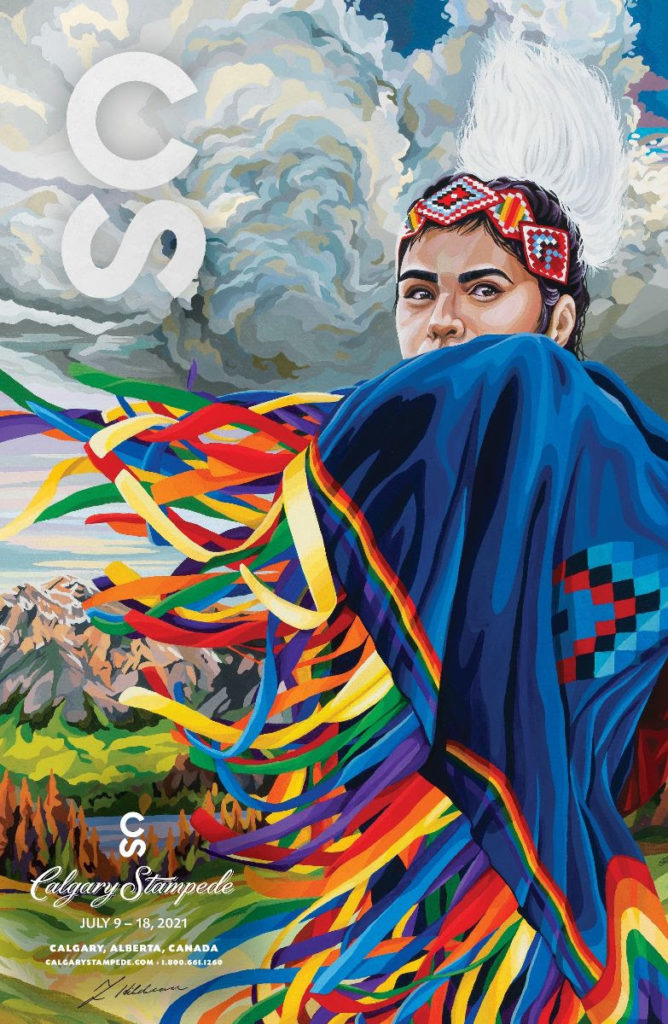 About Katari Right Hand
Katari Right Hand is a fancy shawl dancer from the Sisika (Blackfoot) First Nation, just east of Calgary. The poster shows her with rainbow ribbons trailing from her regalia because she was given the name Nààpiwa otó piim Akikowan (Rainbow Girl) in 2013 following the southern Alberta floods, representing the hope that comes after a storm.
What is Fancy Dance?
Fancy dance is a style of Indigenous dance in which women "wear their shawls over their shoulders, and dance by jumping and spinning around, keeping time with the music. They mimic butterflies in flight, and the dance style is quite graceful and light" (https://www.powwows.com/fancy-shawl-dancing/).
"Elaborately beaded capes (or yokes), moccasins and leggings are worn with appliquéd shawls that have long fringes around them. These colorful outfits are danced in the spirited twirling motions of this exuberant and graceful dance… The fancy dance is a combination of intricate footwork in response to the beat and tone of the music from the drum and singers" (https://tribaltradeco.com/blogs/teachings/pow-wow-dance-styles-teachings-and-meanings).
About Lexi Hilderman
Lexi Hilderman is a multimedia artist who was born and raised in Calgary, Alberta. As she worked on this poster she got to know Katari Right Hand and her family. "I wanted to show her standing strong, looking forward with determination," she said of the poster. "To me this image is about optimism, and also a representation of youth carrying on their legacy and the legacy of the Calgary Stampede's celebration of the arts, culture and community."
You can see Hilderman's other art on her website HERE.
Learn More About Indigenous Culture and History
We love to see that Indigenous culture is being celebrated but we always want to remind ourselves and our readers that we all have a lot to learn. Here are some great resources:
The Tribal Trade Co. website has some really great introductory information about Indigenous teachings: https://tribaltradeco.com/pages/tribal-teachings
Indigenous Canada is a free 12-week course from The University of Alberta. Check it out here: https://www.ualberta.ca/admissions-programs/online-courses/indigenous-canada/i
This is a great list of resources for teaching kids about Indigenous culture: https://www.cbc.ca/kidscbc2/the-feed/where-can-i-learn-more-about-indigenous-people-in-canada
Do you have any resources you'd like to share? What do you think of the Calgary Stampede poster? As always we love to hear from you.
We're learning with you.
Until next week,
Laurie
Laurie MacNevin, HF Associate Editor
Laurie is an editor, writer, and researcher. Her deep love of stories led to an Honours degree and a Master's degree in English Language and Literature from the University of Windsor. Originally from Southern Ontario, Laurie has lived in Manitoba for more than ten years, exploring the stories, landscape, plants, and people of some of the most remote parts of the province including three years in Churchill and two years in God's Lake Narrows First Nation. Laurie and her family now live on an acreage outside of Carberry.
Not a member of our FREE Book of the Month Club yet? What are you waiting for?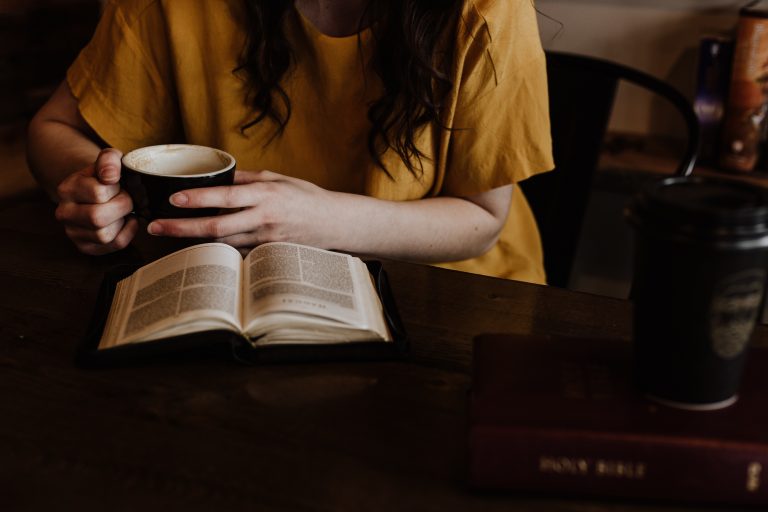 Want a chance to win a free book written by a different Canadian author? Join our Free Book of the Month Club! Every month we review a book by a Canadian author and give it away to one of our email subscribers. Our goal is to share the work of other Canadian authors to help readers find other writers.