WOMAN IN SCARLET by Karen L. Adams
Published by Karen L. Adams, 2018
B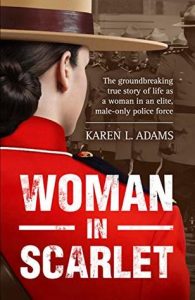 ook Review by Marnie Sluman Somers, HF Editor
As a young girl myself who once dreamed about joining the RCMP, this important book was surely  an eye opener and a fresh reminder to be careful what you wish for.
Ms. Adams and the inaugural troop of female recruits were true pioneers and as such faced many hardships of misogyny, discrimination, outright hostility and even physical assault by their male RCMP peers and superior officers. Many women, even in today's working world, will be able to relate to their dilemma of wanting to succeed without making waves, yet needing to speak out against harassment inflicted upon them. Often their only recourse was to work twice as hard to prove themselves, while putting at risk their self-esteem and adverse effects on family life.
Quote from the book: "Troop 17 was an eclectic mixture of girls from various backgrounds, levels of education, skill sets, sizes, ages, marital status, work experiences, personalities and ambitions. Our common denomimators were that we were all white females and we were all Canadians."
This is also a story about the challenging career of being a police officer, Adams provides many interesting anecdotes about her tours of duty in remote communities, her time working undercover in drug enforcement, and eventually becoming an instructor of cadets and training the trainers. She contributed to identifying and implementing internal RCMP policies for female officers, not previously considered by the all-male force, such as light duty for pregnant officers and maternity leave policies.
What the public cannot comprehend, unless they too have a police officer in the immediate family, is the toll taken on those who serve and protect us. Investigating fatal accidents, suicides, and horrendous crimes is not for the fainthearted. Many officers of both genders suffer from PTSD and it affects their spouses and children, sometimes fracturing their family units. Adams's own family story provides an example of the risks and the costs of police work.
Adams's book is a candid recounting of the ambitions she had when she became one of the first female RCMP officers. She reveals her disappointments of being passed over for promotions, and yet gives full credit for the support of a few male colleagues and supervisors who helped rather than hindered her throughout her career.
Sadly, today's female RCMP officers still are, and will continue to suffer some of the very unresolved biases and issues that Adams did. However, these women should be thankful to those who have proceeded them, like Adams and many others, for putting the first few of many cracks needed in the glass ceiling of the RCMP.  More power to them!
Please leave a comment/review below after you have read this book.
Click here to buy the book on Amazon (e-book and softcover editions available)
And don't forget to leave a review here on Amazon and GoodReads, as well.
______________________________________________________________________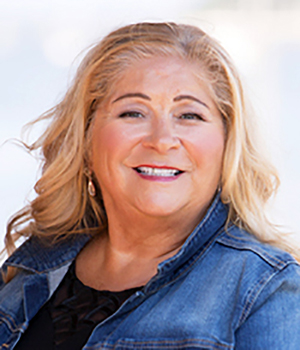 About the Author:
Karen L. Adams has written an inspirational memoir of her 28-year journey, from aspirations of becoming one of the first female officers (Troop 17 in 1974) within the fabled Royal Canadian Mounted Police, to overcoming the harsh realities of discrimination, injustice and personal violation.
Visit Karen Adams's website at: http://www.karenladams.com

Photo of RCMP marching by Nic Amaya