Jerry Potts was born in 1838 at Fort McKenzie on the Missouri River. Potts was the only child of Andrew Potts, a Scottish fur trader and Cooked Back, a Kainai (Blood) woman. Potts was adopted by American Fur Company trader Andrew Dawson of Fort Benton, Montana, who taught him to read and write and encouraged him to mix with the Native Americans, who visited the trading post, to learn their customs and languages. His Indigenous name was Ky-yo-kosi, meaning Bear Child.
Jerry Potts appears in all three of Norma Sluman's novels: Blackfoot Crossing, Poundmaker and The Amulet.
Potts was employed for several years by the American Fur Company, and from 1869 to 1874 he worked as a hunter for various whiskey traders. He was renowned for his quick wits, bravery, knife skills and deadly accuracy with both revolver and rifle.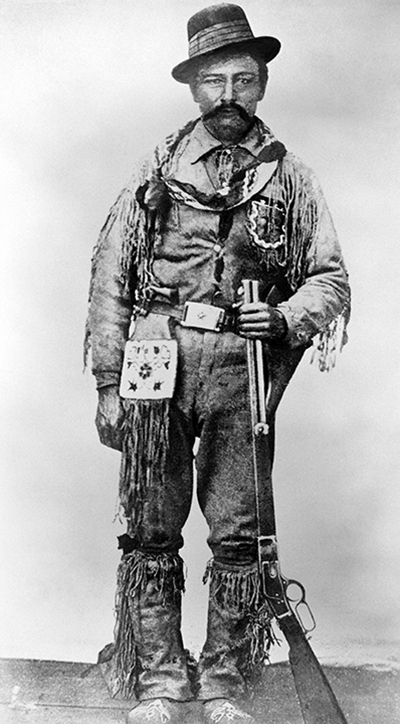 In September 1874, Potts was trading horses in Fort Benton. He was hired as a guide, interpreter and scout by George Arthur French, the first commissioner of the North-West Mounted Police, a new police force, established in 1873, by the Government of Canada. Potts was paid $90 per month, much higher than a regular guide, and three times a police constable's salary. After 22 years in the NWMP, he ceased working at age fifty-eight, and died a year later of throat cancer on 14 July, 1896. Potts was buried with full honours at Fort Macleod with the rank of Special Constable in the North-West Mounted Police.
The Macleod Gazette and Alberta Livestock Record paid tribute to Jerry Potts as the man who "made possible for a small and utterly insufficient force to occupy and gradually dominate what might so easily, under other circumstances, have been a hostile and difficult country. . . . Had he been other than he was . . . it is not too much to say that the history of the North West would have been vastly different to what it is."
Potts married two sisters of the Piegan Blackfeet named Panther Woman and Spotted Killer, who bore him several sons and a couple of daughters.Potts' many descendants still live mainly in Alberta, Saskatchewan, and Montana. Three of his descendants, including Janet Potts, became Royal Canadian Mounted Police officers during the middle years of the 20th century.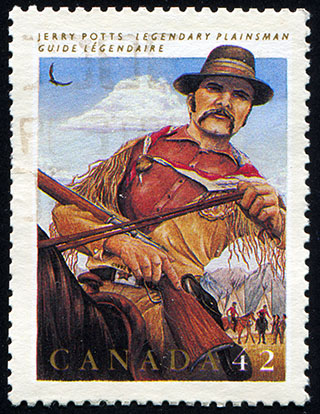 The third issue in the Canadian folklore series, issued on September 8, 1992, focuses on Canadian heroes whose feats have taken on legendary proportions. The Jerry Potts 42-cent stamp designed by Ralph Tibbles, was based on illustrations by Deborah Drew-Brook Based on illustrations by Allan Cormack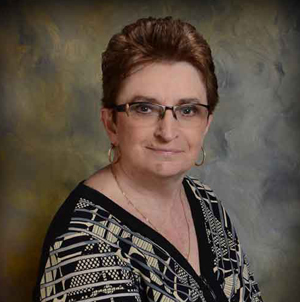 Marnie Somers, HF Co-author & Publisher
Marnie Sluman Somers was born in Toronto, she lived for ten years in Calgary, before returning to Toronto for public and high school. She moved to Winnipeg at twenty and has lived in rural Manitoba ever since. Marnie had a long career working in both the private and public sectors, during which she honed her writing skills. She became a full-time freelance writer in 1997 creating news releases, magazine feature articles, and marketing content. She currently lives on an acreage near Carberry, Manitoba with her partner, Wilf.
Check Out Our Books…
Not a member of our FREE Book of the Month Club yet? What are you waiting for?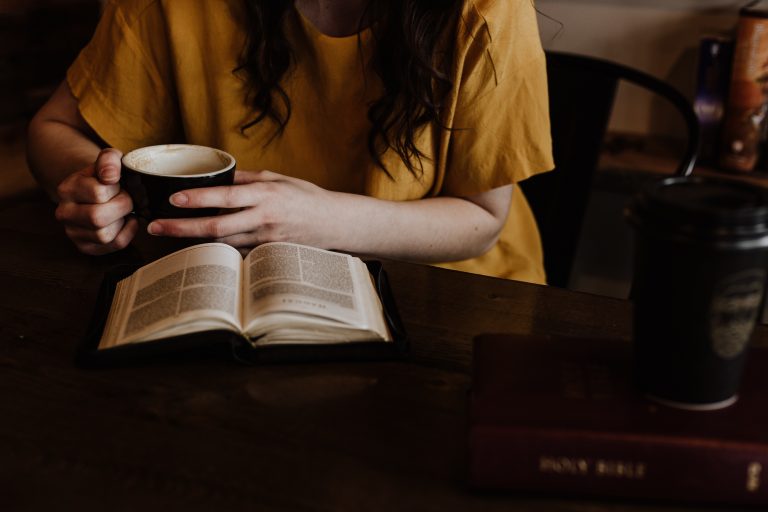 Want a chance to win a free book written by a different Canadian author? Join our Free Book of the Month Club! Every month we review a book by a Canadian author and give it away to one of our email subscribers. Our goal is to share the work of other Canadian authors to help readers find other writers.