Two Blackfoot Crossings – a fictional novel and a real place…
Some years ago, we were on a road trip to British Columbia. Driving west on the TransCanada Highway #1 through southern Alberta, we saw signage to Blackfoot Crossing Historical Park, south-east of Calgary. But we didn't have time for unplanned stops, so we sailed right on by. But the sign intrigued me, so we decided on our return trip to turn south on Highway 842 – to see what there was to see.
Blackfoot Crossing – the book…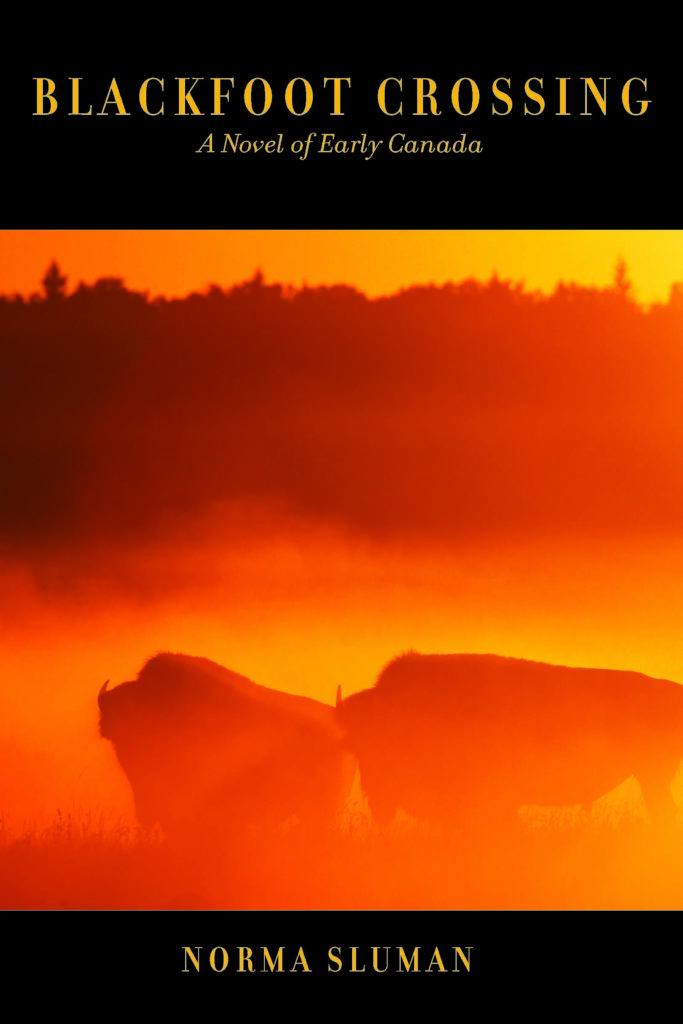 Written by my late mother, Norma Sluman, this historical novel of early Canada has been part of my life, since childhood. As the firstborn in my family, I was exposed to Mom's ten-year journey as she researched, wrote, and submitted her manuscript to Ryerson Press.
Blackfoot Crossing, the book, accurately depicts existential threats to Canada's Indigenous people triggered by a land rush of white settlers and buffalo hunters who decimated the North American bison herds during the 1870's. Blackfoot Crossing itself is a featured setting in this book, cementing its place in Canadian history in 1877, as the site of the signing of Treaty 7.
Blackfoot Crossing – the place (then)…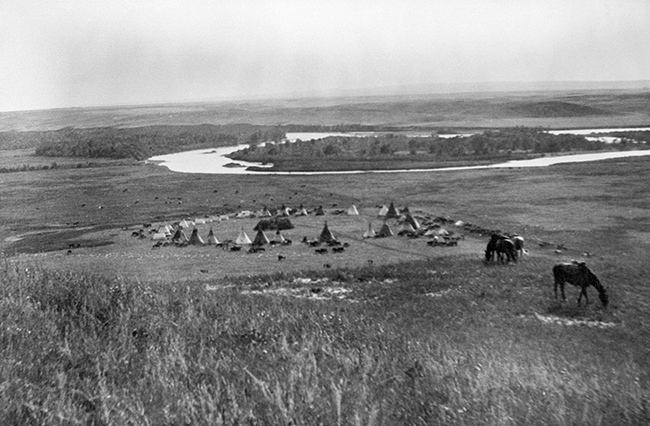 The site is situated on one of the many bends of the Bow River. The Crossing was used for centuries by Indigenous peoples as a natural fording place and favoured encampment site, as they followed migrating bison herds.
(Glenbow Archives NA-1237 – Glenbow Foundation, Calgary, AB)
During a ceremony at Blackfoot Crossing, on September 22, 1877, Crowfoot, Chief of the Blackfoot Confederacy contemplated the terms of Treaty 7 with the federal government. The Crown agreed to provide education, agricultural assistance, and annual treaty payments, in return for First Nations ceding their land. At that time, the Indigenous people believed it to be more of a peace treaty and agreement to share – not to surrender – their traditional lands.

Despite Crowfoot's profound misgivings – that his cherished beliefs and life-long conditioning to his environment would soon become obsolete; and his peoples' very existence would be swiftly and irrevocably altered – Crowfoot made his mark on the treaty document. The sheer magnitude of incoming settlers, and catastrophic slaughter of millions of bison, left him no viable alternative.
Formalizing Treaty 7 cleared the way for greater settlement of the region, enabled the completion of the transcontinental railroad, and created reserves, still home today of the Siksika, Blackfoot, Stoney and Sarcee First Nations.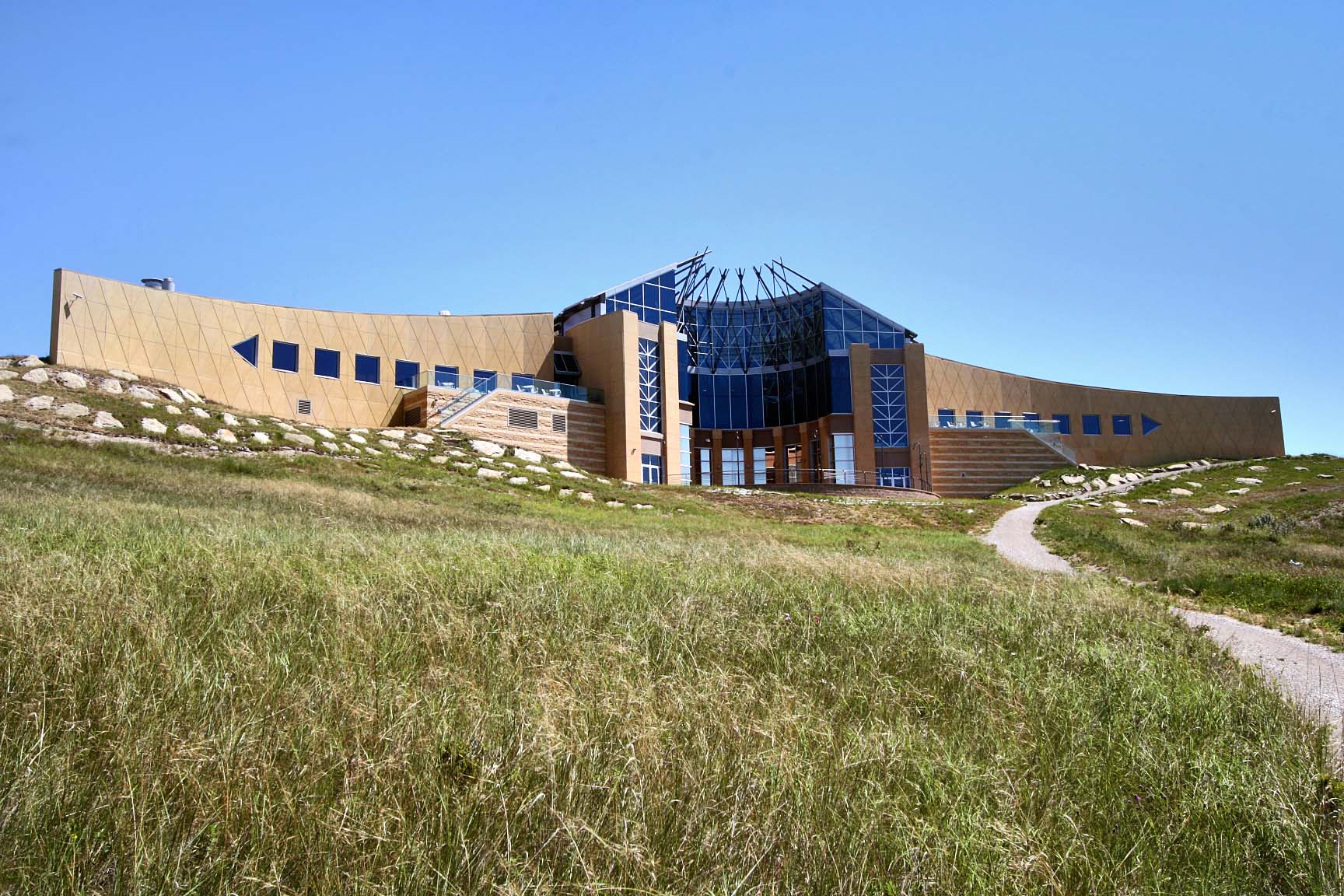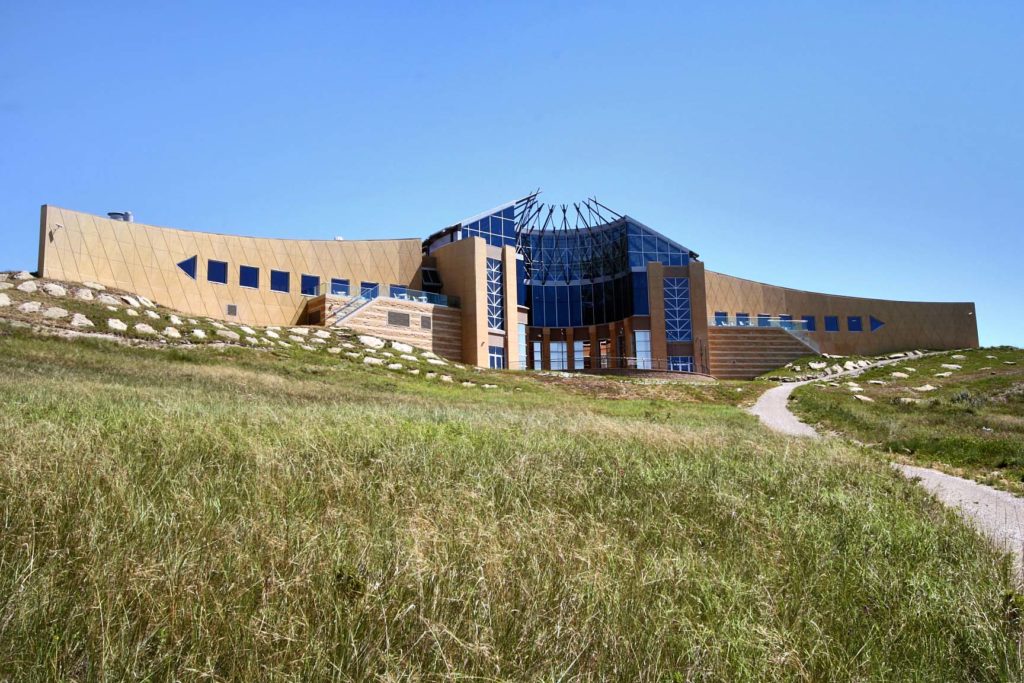 Blackfoot Crossing – the place (now)…
Blackfoot Crossing Historical Park opened in 2007. The complex overlooks the Bow River and includes the interpretive centre, monuments to Poundmaker, Crowfoot, Treaty 7, tipi remains and an earthlodge village built , ca. A.D. 1740. It is stunning, deftly incorporating symbols important to Indigenous culture; lodge poles, medicine circles, and eagle feathers, to name just a few.
A cairn, erected in 1948, marks the final resting place of Chief Crowfoot.
(Photo by: Blackfooot Crossing Historical Park)
Mom would be really pleased that it has become a significant historic site. It furthers understanding of the roles played by the Indigenous peoples of this region, including their support of the fledgling North West Mounted Police – a force established by the Crown in 1873 to maintain law and order in Western Canada.
Even as a young child, I understood that my mother had a special place in her heart for Blackfoot Crossing. We had probably visited the overlook as a family while Mom researched her book. If so, I don't recall it. But my visit rekindled my interest in my mother's published novels: Blackfoot Crossing, and Poundmaker. And, it prompted me to co-author and self-publish The Amulet, a draft manuscript Mom left with me after she passed.
You just never know when a seemingly small decision will change the course of your journey.
A virtual visit to "Writing On Stone" Provincial Park in the Siksika (Blackfoot) territory…
---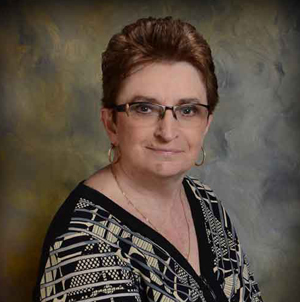 Marnie Somers, HF Co-author & Publisher
Marnie Sluman Somers was born in Toronto, she lived for ten years in Calgary, before returning to Toronto for public and high school. She moved to Winnipeg at twenty and has lived in rural Manitoba ever since. Marnie had a long career working in both the private and public sectors, during which she honed her writing skills. She became a full-time freelance writer in 1997 creating news releases, magazine feature articles, and marketing content. She currently lives on an acreage near Carberry, Manitoba with her partner, Wilf.
Check Out Our Books:
Not a member of our FREE Book of the Month Club yet? What are you waiting for?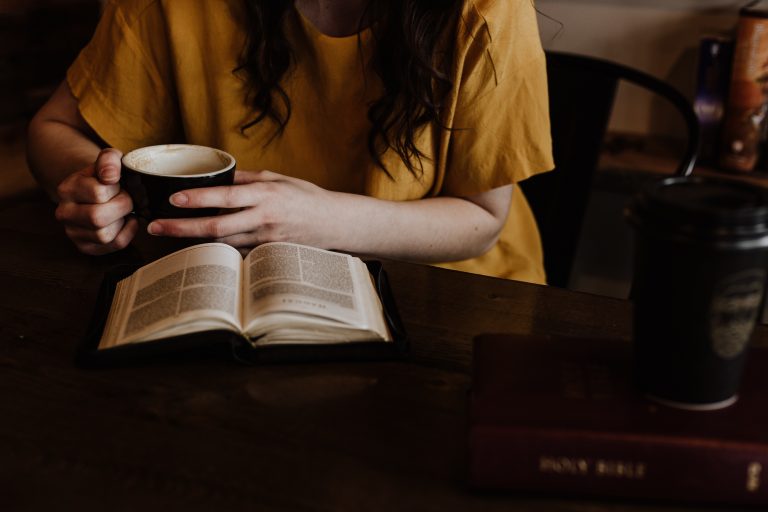 Want a chance to win a free book written by a different Canadian author? Join our Free Book of the Month Club! Every month we review a book by a Canadian author and give it away to one of our email subscribers. Our goal is to share the work of other Canadian authors to help readers find other writers.